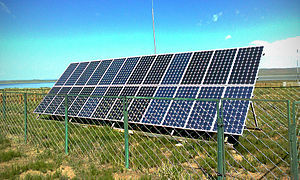 As solar power becomes increasingly popular, more and more solar panels can be seen on the roofs of homes and businesses alike. These solar panels employ one of the most environmentally friendly methods for producing electricity: "photovoltaic". The term photovoltaic, or PV, is used to describe something that creates electricity when exposed to sunlight. Solar panels, or PV modules, are made up of several solar cells. Each cell is comprised of materials which have photovoltaic properties.

Photovoltaic technology is actually quite simple:

Electricity can be produced by solar cells whose principal component consists of a semiconductor that is typically made of silicon. A semiconductor consists of a material that cannot be classified as an isolator or a conductor and whose electrical properties can be influenced by adding foreign substances (doping). The solar cells comprise two adjoining semiconductor layers that are equipped with separate metal contacts and have each been doped, thus creating an "n" layer (n = negative) with a surplus of electrons and below that, a "p" layer (p = positive) with an electron deficiency. Due to the difference in concentration, the electrons flow from n into the p area, thus creating an electrical field, or "space charge zone", inside the semiconductor structure.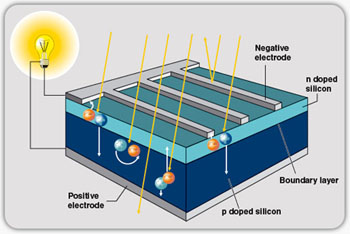 The Photovoltaic Effect

The upper "n" layer in a solar cell is so thin that the photons from sunlight can penetrate it and can only discharge their energy to an electron once they are in the space charge zone. The electron that is activated in this manner follows the internal electrical field and thus travels outside of the space charge zone and reaches the metal contacts of the "p" layer. When an electrical load is connected, the power circuit is closed: the electrons flow across the electrical load to the solar cell's rear contact and then back to the space charge zone. This effect is called the "photovoltaic effect" (derived from ''Phos'', the Greek word for light and the name of the physicist Alessandro Volta). An inverter, the "heart" of the system, converts the direct current (DC) produced by the solar cells into alternating current (AC).

From the Cells to the Module

The sun radiates approximately 1000W per square meter, so a 10 x 10 cm solar cell is exposed to nearly 10 watts of radiated power. Depending on the quality of the cell, it can produce an electrical output of 1 - 1.5 watts. To increase the output, several cells are combined and connected to a PV module. The connection of several PV modules is also referred to as a PV array. You can learn more about photovoltaics using the menu bar on the upper right-hand side.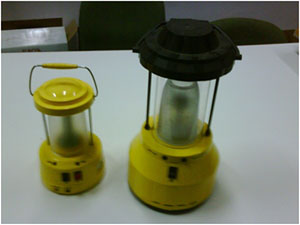 We also offer Solar Lanterns for rural application and for use of roadside hawkers in markets where the electricity is not available.

Solar Lantern is a powerful & compact lighting system which uses sun energy and gives free power forever.

Solar lantern consists of a solar module(panel), tough polycarbonated body, compact fluorescent lamp (CFL), battery and an electronic circuit.

Solar lanterns are portable light sources and are fitted in areas where sunlight can directly fall on it. The solar lanterns give omni directional light that is cheap and gives higher performance than other types of lanterns. Solar Panel Photo / Voltaic module PV is fitted on top of the roof so that the sunlight fall on it.

Solar PV Module
We offer the range of Solar PV modules, the general specs of which are detailed below:

General Specification
Module Type

Pmax Watt (Nominal)

Pmax Watt (minimum)

Minimum Pld Watts at Vld16.4 Volts (For MNRE Only)

Nominal Voltage

Voc (Nominal Volts)

Isc (Nominal Amps)

Vmp
(Nominal Volts)

Vmp
(Minimum Volts)

Imp (Nominal Amps)

RTP1205

5

4.75

NA

12

21.5

0.35

17.00

16.50

0.22

RTP1205M

5

4.75

NA

6

10.75

0.70

8.50

8.20

0.59

RTP1210

10

9.50

10

12

21.5

0.68

17.00

16.50

0.59

RTP1210M

10

9.50

10

12

21.5

0.68

17.00

16.50

0.59

RTP1212

12

11.40

12

12

21.5

0.75

17.00

16.50

0.62

RTP1212M

12

11.40

12

12

21.5

0.75

17.00

16.50

0.62

RTP1218

18

17.10

18

12

21.5

1.25

17.00

16.50

1.00

RTP1218M

18

17.10

18

12

21.5

1.25

17.00

16.50

1.00

RTP1220

18

19.00

NA

12

21.5

1.30

17.50

16.50

1.05

RTP1220M

20

19.00

NA

12

21.5

1.30

17.50

16.50

1.05

RTP1225

25

23.75

NA

12

21.5

1.50

17.50

16.50

1.21

RTP1225M

25

23.75

NA

12

21.5

1.50

17.50

16.50

1.21

RTP1230

30

28.50

NA

12

21.5

1.90

17.50

16.50

1.50

RTP1230M

30

28.50

NA

12

21.5

1.90

17.50

16.50

1.50

RTP1235

35

33.25

NA

12

21.5

2.25

17.50

16.50

1.75

RTP1235M

35

33.25

NA

12

21.5

2.25

17.50

16.50

1.75

RTP1240

40

38.00

37

12

21.5

2.40

18.00

17.00

2.20

RTP1240M

40

38.00

37

12

21.5

2.40

18.00

17.00

2.20

RTP1250

50

48.50

NA

12

21.5

2.90

17.50

17.00

2.70

RTP1250M

50

48.50

NA

12

21.5

2.90

17.50

17.00

2.70

RTP1260

60

57.00

NA

12

21.5

3.60

17.50

17.00

3.35

RTP1260M

60

57.00

NA

12

21.5

3.60

17.50

17.00

3.35

RTP1270

70

66.50

NA

12

21.5

4.50

17.50

17.00

3.90

RTP1270M

70

66.50

NA

12

21.5

4.50

17.50

17.00

3.90

RTP1275

75

72.75

74

12

21.5

4.85

18.00

17.00

4.20

RTP1275M

75

72.75

74

12

21.5

4.85

18.00

17.00

4.20

RTP1280

80

77.60

NA

12

21.5

5.10

17.50

17.00

4.70

RTP1280M

80

77.60

NA

12

21.5

5.10

17.50

17.00

4.70